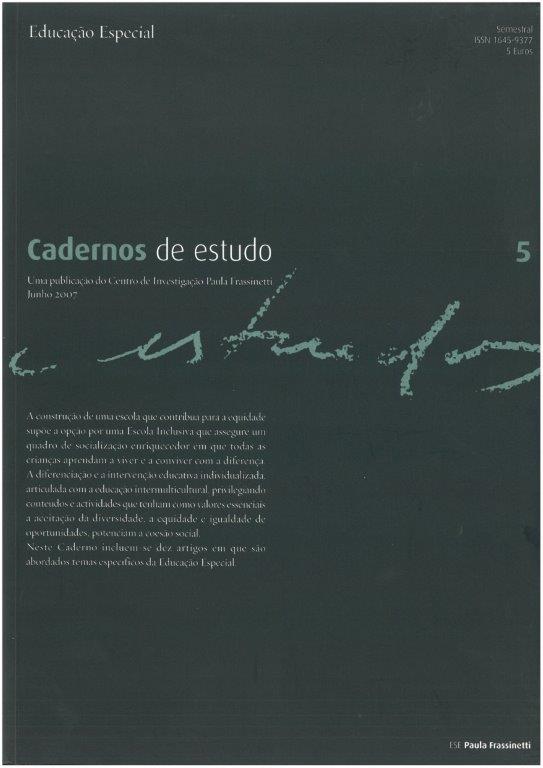 ---
Se pretende adquirir esta publicação em versão papel, por favor contacte-nos – envie E-MAIL
Adquirir presencialmente na ESE de Paula Frassinetti: 5€
Envio pelo correio: 10€ (portes incluídos – Portugal)
Se vive no estrangeiro por favor contacte-nos para saber o valor dos portes
---
If you wish to purchase this publication in paper version, please contact us – send E-MAIL
Purchase in person at High School of Education Paula Frassinetti: 5€
Shipping by mail: 10€ (postage included – Portugal)
If you live abroad, please contact us to know shipping cost.
Cadernos de Estudo nº 5 – Educação Especial
Coordenadores/Editors: Helena Serra, Daniela Gonçalves e Isabel Cláudia Nogueira
Editor/Publisher: ESEPF [versão eletrónica e versão impressa]
Ano/Year: 2007
Idioma/Language: Português/Portuguese
Páginas/Pages: 155
ISSN: 1645-9377
Identificador/Identifier: http://repositorio.esepf.pt/handle/20.500.11796/46
Resumo: "A construção de uma escola que contribua para a equidade supõe a opção por uma Escola Inclusiva que assegure um quadro de socialização enriquecedor em que todas as crianças aprendam a viver e a conviver com a diferença. A diferenciação e a intervenção educativa individualizada, articulada com a educação intermulticultural, privilegiando conteúdos e actividades que tenham com valores essenciais a aceitação da diversidade, a equidade e igualdade de oportunidades, potenciam a coesão social.
Neste Caderno incluem.se dez artigos em que são abordados temas específicos da Educação Especial." (In Editorial)
Abstract: "The construction of a school that contributes to equity presupposes the option for an Inclusive School that ensures an enriching socialization framework in which all children learn to live and live with difference. Differentiation and individualized educational intervention, articulated with intermulticultural education, privileging contents and activities that have as essential values the acceptance of diversity, equity, and equality of opportunities, enhance social cohesion.
This notebook includes ten articles in which specific topics of Special Education are addressed." (In Editorial)